Thermo-Gel® Fire Retardant Gel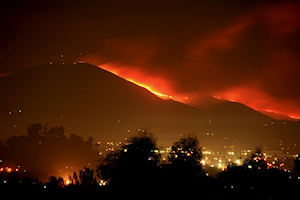 Thermo-Gel® is a gel concentrate which, when added to water, transforms into a fire preventing and heat absorbing Class A fire retardant gel.
The gel particles, which are filled with water, adhere directly to the burning material and in doing so, aid in the quick extinguishment of fire. Thermo-Gel® clings to glass, metal, roof overhangs and all types of surfaces creating a superior gelled water barrier that effectively protects a home or structure for several hours.
Thermo-Gel® is environmentally compatible, it can be used on all types of trees and vegetation. After the fire danger has passed, Thermo-Gel® is designed to be rinsed off with plain water or will naturally degrade from exposure to sunlight which makes the product environmentally friendly.
Thermo-Gel® is highly effective in fighting all types of active fires, including wildland fires, prescribed burns, urban-interface fires and in protecting all types of structures.
Thermo-Gel® is far more effective than Class A foam, which uses encapsulated air rather than encapsulated water to attack fires and provide exposure and vertical structure protection to valuable homes and structures.